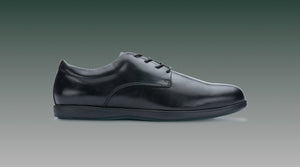 LIBER & ABBACI
How do they FIT?
NOTE: If you are between sizes round up a half size!
LENGTH & WIDTH - Our shoes have a slightly narrower fit when compared to a sneaker. The shoes fit to size as measured with a Brannock Device® (standard foot measuring tool). We currently only offer a REGULAR "D" width and do not offer a wide. We recommend to order a half size larger if you tend to have a larger foot. If you have even needed a wide shoe then these maybe too narrow for you. We hope to bring a wide size in the future.
TIGHTNESS - Our shoes are linned with FULL GRAIN LEATHER and can feel a bit snug at first. This high quality leather will stretch and form to your foot over time. You will want to treat your shoes with a leather conditioner to keep them nourished, soft and flexible! In addition: Our sport insoles are thick and can be replaced with a thinner option to create more foot room.
COMPETITOR - The closest match to size, fit and feel would be the ZeroGrand series from Cole Haan.
The Liber
Our Unique Comfort
1) The temperature regulating material keeps the foot cool in the summer and warm in the winter and provides cushion that hugs the foot like a sneaker.
2) The high-performance sport insole and the added silicone gel layer provide a level of impact control above all others.
3) The padded collar, suede heel cup plus the stitch and turn seams add an extra level of comfort which helps protect the heel from unwanted rubbing.
DISCOVER
The Fibonacci Difference
Our shoes were created for both formal and casual wear. Fibonacci has infused superior quality materials with state-of-the-art technology, ensuring all day comfort and long-lasting endurance. Bringing together design, quality, and comfort.
All our shoes come with the following features: Certified thermo-tech insulation, a silicone layer for impact control, high-performance sport insoles, a premium leather Interior, suede heal cups, high end wax laces, a thin professional midsole, a reinforced flexible custom outsoles for flexibility, grip and longer lasting wear and a quality shoehorn.
Luxury Meets Comfort