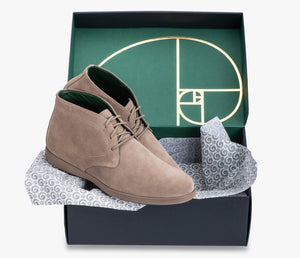 The ABBACI
CHUKKA BOOTS
Premium suede
Luxury Meets Comfort
Fibonacci chukkas are constructed with suede ankle-high uppers, a sleek round toe box, rounded edges and three open-laced eyelets. Veristile enough to wear in the office or walking around town. Each shoe comes packed with special features. See below for more details.
The Upper
We offer Fibonacci men's chukka boots in two options; a brown color "Chocolate suede" and a tan color "Stone suede". The uppers are made from suede which is slightly more casual than leather but still a timeless addition to your closet. Each pair has high ankle support to keep your feet snug and cozy.
The Interior
Our Chukka boots have the same interior as our derby dress shoes (The Liber - depicted above). The interior is constructed with calfskin leather, a suede heel cup, NASA certified temperature regulating material, a high-performance breathable sport insole, and an added specialty layer of silicone gel for cushioning.
The Soles
Our men's chukka boots have a flexible, lightweight and thin midsole. The outsole is made with a unique tread pattern and reinforced rubber to ensure longer lasting wear. Our stone chukka has a matching color midsole while the chocolate chukka has a black midsole. Both outsoles are our flagship green color.