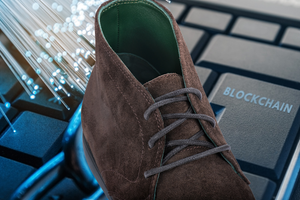 Blockchain Authentication
Powered by VeChain ToolChain™
Traceability, Authentication, Anti-counterfeiting
VeChain authentication technology allows us to track our products through the supply chain ensuring a timely delivery and product authenticity!
How It Works:
Fibonacci shoes are digitized on the blockchain. Each pair of shoes receives a VeChain Smart Tag which establishes the linkage between the physical product and unique blockchain identity. Each unique digital identity provides the traceability over the life-cycle of the product from manufacturing through consumer engagement on the blockchain. Each product has its own landing page created with the product description and traceability information. You can check and verify product information by scanning the Smart Tag with a smart phone.
VeChain Smart Tag
Each pair of Fibonacci shoes is authenticated on the Blockchain using VeChain technology. You can scan your smart tag to visit your shoe's unique landing page.